Come Dine With Us


These evenings are happening to raise funds to build our Coffee Shop alongside the church. You are treated with special care and even greeted at your car, as one of the comments said, "lovely reception by '007'"

To date we have raised an amount of approximately £35 000. We still need to raise quite a bit, but we do want to see the Coffee Shop up and running so that it can become the heart of the Community.

Our second 'Come Dine With Us - Valentines' evening was a great success. Our aim is to create a lovely intimate space for people to dine in either two's or four's.
Because it was Valentines the theme included a splash of red this time. The ladies each received a big red chocolate heart.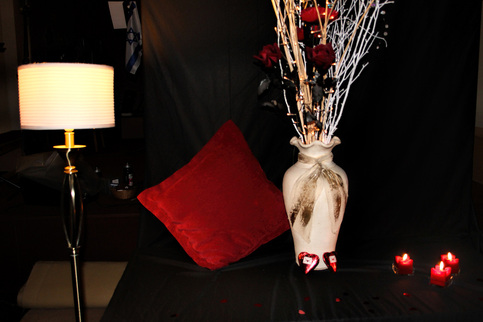 "Delicious food, lovely atmosphere, attentive service - couldn't have been better served anywhere! Thank you."
Our Valentines menu consisted of:
Starter to share ~ Baked Camembert served with a Chutney and Warm Rustic Bread.

"Definitely a success. We will not only come again but share this news with our friends. Well done. Everything was superb. Food, service, atmosphere. If only Richard could have played the violin! Really enjoyed the evening."

"Thank you so much. The meal was wonderful, the set up lovely - well done. I would love to come again one day."
Our Main ~ Slow Cooked Braised Lamb Shanks served with Green Beans on a bed of Creamy Mashed Potato.

"Again a lovely welcome, relaxing atmosphere, not rushed between courses. Lovely food."

"Superb service, food quality and atmosphere. Thank you all who served."

"Excellent service. Extremely well cooked and presented food. Well presented settings. Would come back again. This could become a regular outing."

"Amazing food! Beautifully presented. Wonderful atmosphere. Friendly and welcoming service throughout. Fabulous evening. Thank you!"
Dessert ~ Eaton Mess Chocolate Indulgence served with Strawberries.

"Beautiful meal. Beautiful service. Beautiful evening with beautiful people."

"The meal was excellent. The service also excellent."

"A wonderful evening. Great atmosphere, marvellous food. Thanks for everything."
We will let you know when the next one is. What we can say is that our next menu will be 'Italiano'. Spaces are very limited.

We would like to say a very big thank you for the wonderful donations received over and above the cost of the tickets. Diners, you were amazing. Thank you.